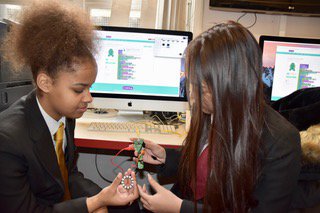 When The Ada Show performed at Leeds Central Library on 14.11.17, 75 KS3 students from 5 of the city's schools were invited and inspired by the actions and innovations of Ada Lovelace in the nineteenth century.
Great day supporting @AdaTheShow and delivering 'Wearable Wonders' workshops with the fab @leedslibraries team.
Oh, and with string at the ready, we all helped to build an Analytical Engine with #AdaLovelace this afternoon. Don't get to say that every day!#Leeds #STEM #makered pic.twitter.com/H1QhpALpj9

— FDNdigicreate (@FDNdigicreate) November 14, 2017
The morning session gave an opportunity to lead an 'Internet of Curious Things' workshop with a group of students from the Co-op Academy in Leeds.
They took the connection of wearables and lights from Ada Lovelace's dress to consider twenty first century applications of a more connected world and the internet of things. Read about their experiences on the day below: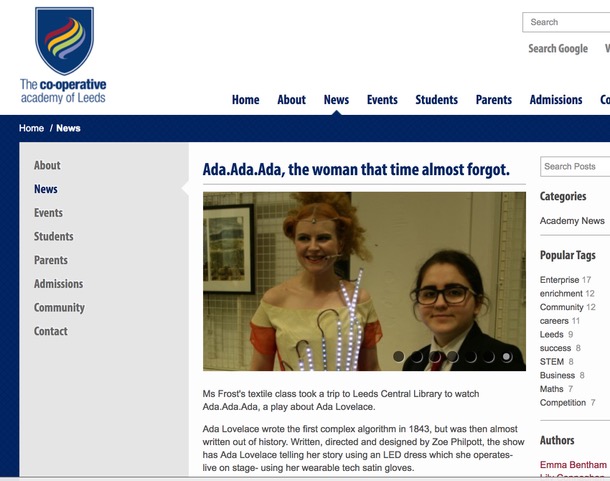 The group explore more about the first complex algorithms and got to grips with the engineering behind the Analytical Engine, through a practical activity using string and brain processing!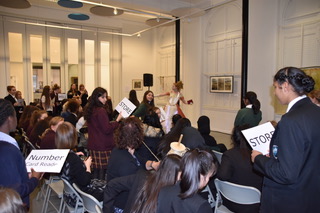 #ItsAShow #diversity https://t.co/r1CtTeCSqH pic.twitter.com/QeY9LVfQtb

— ADA.ADA.ADA (@AdaTheShow) November 21, 2017